SoberLook.com
"Let's start with Russia where the ruble came under pressure again as Standard & Poor's downgraded the sovereign credit to junk (BB+). The currency shed about 6% against the dollar as a result. The Russians continue to convert deposits into hard currency in spite of high premiums charged by the nation's banks for such transactions. The chart below shows capital flight accelerating last year.
Credit conditions remain incredibly tight (2-year government bond yield is 16%) and a waive of bankruptcies and government bailouts is about to hit banks as well as non-financial firms.
The markets shrugged off the Greek election results as the euro bounced from the lows – which suggests that Grexit risks may be lower than some had originally thought. There is no question that there is a fight coming up between the troika institutions and the newly elected Greek government but the fallout of Grexit will be so dire for both sides that the "nuclear" option is likely off the table.
Deflationary risks continue to haunt the Eurozone as Spanish PPI fell 3.7% (YoY) – far worse than consensus.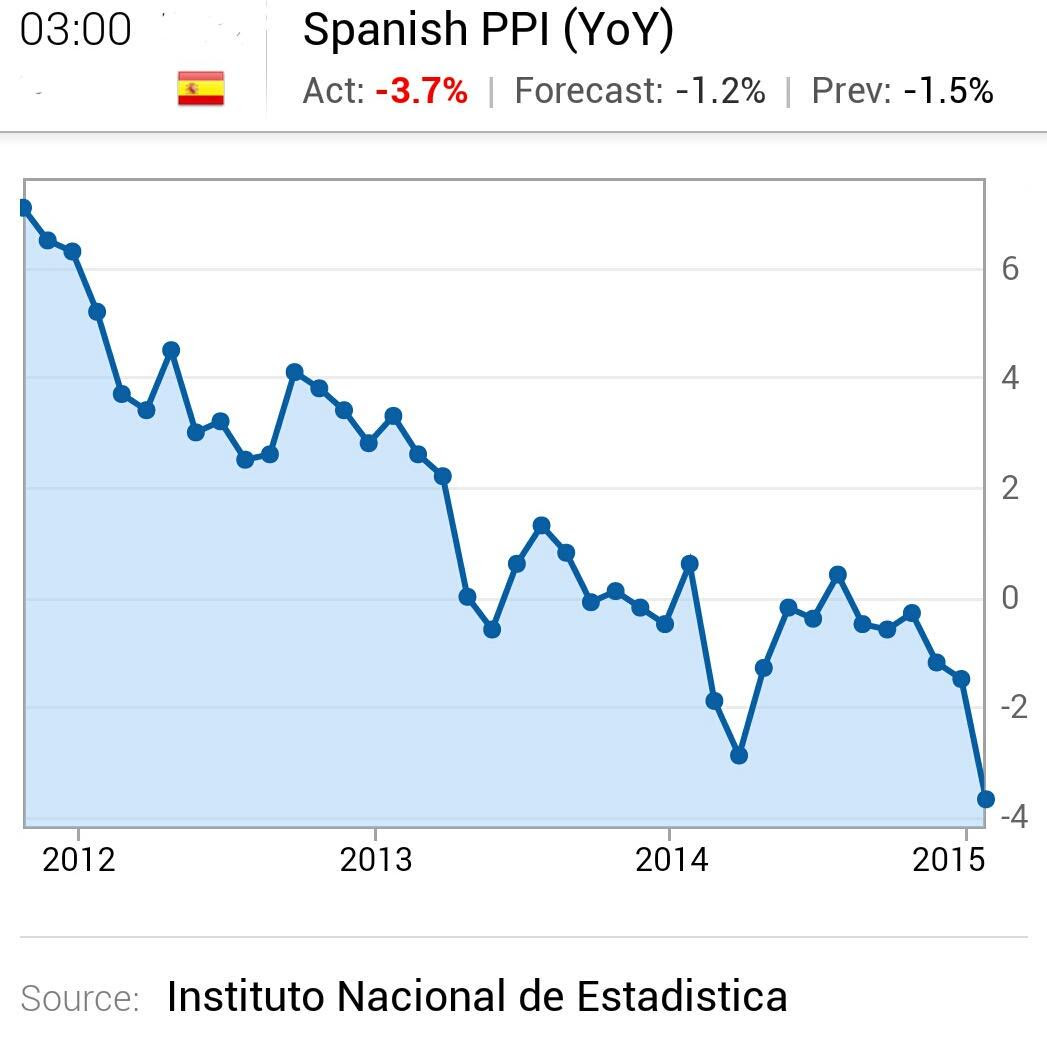 Nevertheless the latest QE announcement and the euro's sharp decline has lifted nearterm forward inflation expectations. The massive QE announcement has given the ECB credibility and the markets are taking this fight against deflation quite seriously.
German Ifo Business Climate Index stabilizing. As a contrarian, I remain relatively constructive on the Eurozone recovery in the middle of all the doom and gloom.
As an aside, the ECB and the BoJ will now carry the torch for the Fed in global central bank balance sheet expansion.
Now a couple of notes on Latin America:
1. Brazil's FGV consumer confidence indicator hit the lowest level on record. Congratulations to Dilma Rousseff's newly reelected administration.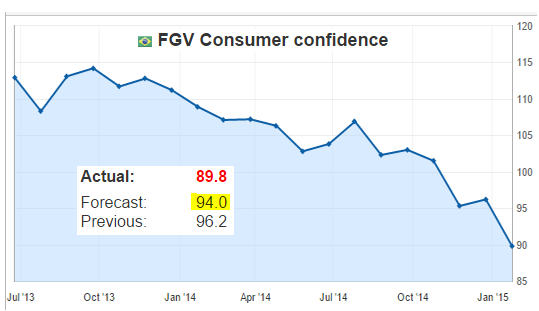 2. Reuters published an article on Venezuela where a new profession is taking hold – standing in line and selling your spot to those who don't want to spend all day waiting. A similar trend exists in the US on Black Friday, but Venezuela's rising shortages are making this a full-time occupation for many. Boring, but lucrative. Below is a photo of an incredibly long line for groceries, a daily occurrence.
Canada remains vulnerable to further economic deterioration. While the Fed and the Bank of Canada policy rates have generally moved in lockstep in the past, they have now diverged. In recent years Canada's energy/commodity boom (which had helped housing and the banking system) kept the Bank of Canada from moving rates to zero. Now it seems that the two nations' policies are about to diverge again.
The data below showing the cost of Canadian oil sands production has to be making the Bank of Canada uneasy – with WTI crude futures below $46/bbl (and Western Canadian Select crude some $14 below that)."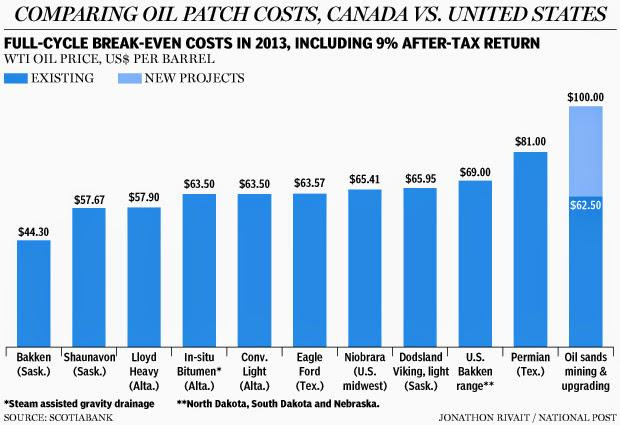 – From Russia with love A Russian bank employee and two Russian government officials were charged with being part of a spy ring in New York City. Their mission: to mine intelligence on US sanctions and efforts to develop alternative energy resources and – possibly – to recruit New York City residents as spies. Less lovingly, Russia was downgraded to "junk" by Standard & Poor's and Nato accused it of escalating the crisis in eastern Ukraine by sending in more of its own well-armed troops. (FT)
– Kurdish victory over Isis in Kobani Kurdish forces said they had wrested back control over the Syrian border city, which has also been the site of a four-month battle between Isis and the US-led international coalition. (FT)
– Alexis Tsipras After being sworn in as prime minister yesterday, he has three days to form a government and the new cabinet could be announced today. His choice to form a coalition with the Independent Greeks, a party opposed to the strict conditions attached to the country's bailout, has already dismayed EU governments opposed to debt relief.
– Internal devaluation" via falling wages is incredibly costly — but Greece has been paying incredible costs, and has achieved a sharp fall in relative wages:


– The year in Vix and Volatility
http://antenna.ft.com/top/today
– S&P. Cuts Russian Debt One Notch to Junk Level – NYTimes.com
– Most Americans Don't Have Savings to Pay Unexpected Bill – Real Time Economics – WSJ
– Greece's new prime minister wants Germany to pay for Nazi war crimes – The Washington Post
– Ruble Sinks to Six-Week Low After S&P Downgrades Russia to Junk – Bloomberg
"We had thought that the cut to junk was largely priced in, but the ruble is under pressure now and most likely the weakness will continue," Dmitry Polevoy, an economist at ING Groep NV in Moscow, said in e-mailed comments. "There's likely going to be selling in bonds."
– Will the US soon have a budget surplus? | FT Alphaville
Bloomberg
– Crowdfunding Revives Quake-Hit Small Businesses in Japan
"Websites for crowdfunding raised an estimated $5.1 billion globally in 2013 versus $2.7 billion in 2012, according to research firm Massolution. While specific figures aren't available for Japan"
– China Industrial Profits Fall Most Since 2011 Amid Slowdown
""The upstream industries, from mining to oil exploration, are hurting badly from falling input prices, while some manufacturers are benefiting," said Ding Shuang, a senior China economist with Citigroup Inc. in Hong Kong. "A deeper fall in industrial profits will damp investment activity to weigh on future growth."Profits in coal mining plunged 46.2 percent in 2014, while the oil processing and nuclear fuel industry's returns shrank 79.2 percent, the NBS said. Profits in automaking rose 18.1 percent and in electronics manufacturing they increased 17.1 percent."
– EU Renews Push for Russian Sanctions; Putin Blames Ukraine
– China Money Rate Drops as PBOC Injects Funds Via Reverse Repos
""If capital outflows worsen significantly, the PBOC needs to double the effort to inject liquidity, and we will probably see upward pressure on market rates," said Chen Yang, a Hong Kong-based rate strategist at Bank of America Corp. "In the very short-term, the depreciation pressure on the yuan reduces the chance of the PBOC cutting interest rates meaningfully.""
– Nomura Says Odds Up of Abenomics Derailing as Tax Doubted
""Signs are mounting that Japan's fiscal sustainability is beginning to crumble," said Uomoto, ranked Japan's No. 1 credit analyst for the past two years.
The BOJ on Jan. 21 lowered its core inflation projection to 1 percent for the fiscal year starting in April, from 1.7 percent, citing a drop in oil prices for the revision.
The yen may decline to 160 against the dollar by 2017, according to Uomoto, if the BOJ continues the current level of asset purchases. The Japanese currency was at 118.1 per dollar as of 6:02 p.m. in Tokyo. The central bank now buys as much as 12 trillion yen of Japanese sovereign notes a month.
An increase in Japan's sales tax to 8 percent from 5 percent last April led to a recession in 2014. Abe delayed raising the levy to 10 percent as planned until 2017.
"This is the first time for me to seriously prepare and explain a slide on a scenario that looks at Japan moving to an explosive situation,""