SoberLook.com
"In Greece the Alexis Tsipras's Syriza party has won and some are asking if the nation's future in the Eurozone could now be in question.
It's important to keep in mind that while "Grexit" may look appealing to some, it will be a nightmare for the Eurozone – which simply has no mechanism for a member state exiting. It's like a divorce when there are no divorce laws. Target-2 imbalances (latest of about €36bn) are about to spike as Greeks rush for the exits to preserve their euro accounts (before they get converted to drachmas). The more funds depositors move out, the more the Bank of Greece will owe to the Eurosystem via Target-2. Add to that the bailout vehicles holding Greek debt, the ECB's bond holdings, the IMF, and the private sector bond holdings and we have a disaster on our hands. That's why all parties involved in future negotiations will likely focus on keeping Greece in the the Eurozone.
Furthermore, if Greece remains in the Eurozone while having negotiated a major haircut (there is talk of 50%) on its sovereign debt, what will be the reactions of other nations who received bailout funds?
Continuing with the Eurozone, the ECB's QE effort is unlikely to have the same "wealth" effect as it did in the US. That's because the euro area households own smaller amounts of financial assets than those in the US.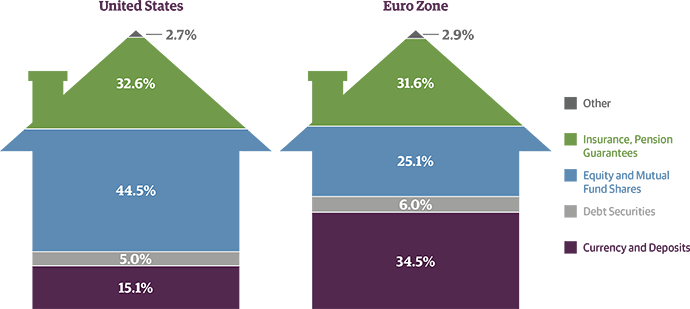 As an example, here is the 30yr German government bond yield falling below 37bp – a new record. The fraction of Eurozone households that participated in this historic rally is probably relatively low. Many banks however did well.
South Korea's economy remains fairly tied to China's as the nation's GDP growth is slowing again.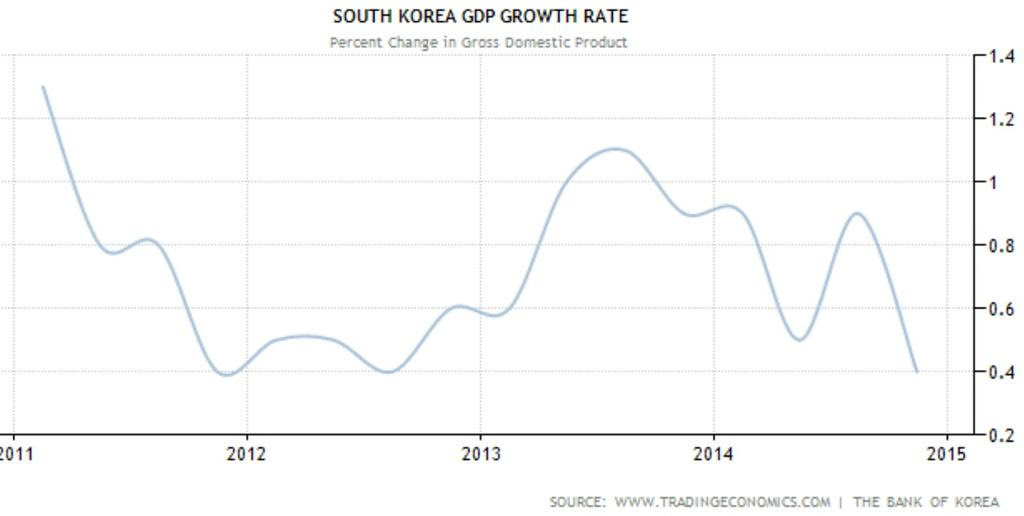 Japan surprised to the upside today, as exports beat expectations. Weak yen is starting to have an effect. Nations are using currency devaluation to improve competitiveness.
China's yuan continues to weaken and is now at its lower bound permitted by the PBoC (upper bound for the dollar). Once again the question is whether Beijing is willing to ride along with the US dollar, making the yuan strong enough to impact competitiveness."
""The Greek people have given a clear, indisputable mandate for Greece to leave behind austerity," said Alexis Tsipras in his victory speech.
With nearly all votes counted, leftwing anti-austerity party Syriza is on track to win about half the seats in parliament. It had alsoclinched a coalition deal with a small rightwing party similarly opposed to Europe's economic policy, giving it a clear majority.
Reinsurance reshaped by $11bn deal Axis Capital and PartnerRe, two of the top five insurance groups based in industry hub Bermuda, agreed an $11bn deal to merge and create the world's fifth-largestproperty and casualty reinsurer. Premiums of reinsurers, which allow insurance companies to transfer the risks of hurricanes and other disasters, have been pushed down to their lowest levels in more than a decade by fierce competition.
My thoughts – Low prices on insurance leads to low money barriers to fragile system?
Continue.
Bitcoin The first licensed US exchange for the virtual currency opens today. Coinbase Inc, is a start-up backed by $106m from the New York Stock Exchange. It is hoped it will bring much-needed legitimacy to the cryptocurrency. (WSJ$)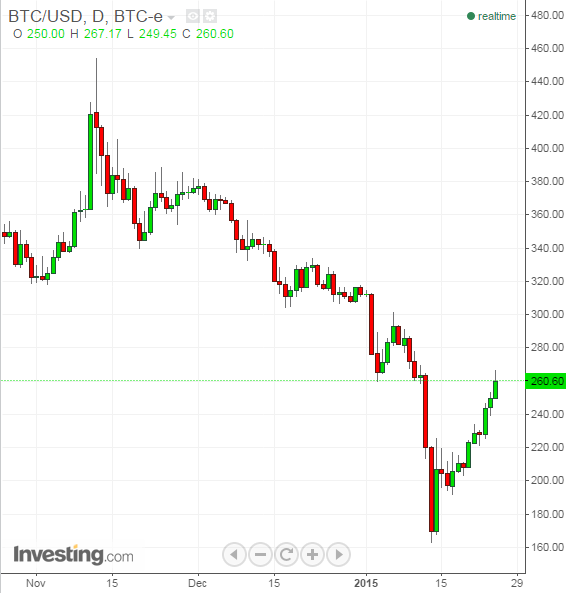 China's credit buildup was pretty damn fast
That's what an overall debt-to-GDP ratio going from 153 per cent of GDP in 2008 to 243 per cent in 2014 will do. After all it's the rate of increase that'll get ya (probability wise, that is).
No matter the cause, you can't deny it's impressive. And that the idea of a quick fix is pretty laughable.
Be it a managed slowdown and pivot towards consumption and/ or a regression to the mean, the strong likelihood is that the GDP growth rate won't stop trending down for quite a few years.
Our analysis of China's debt dynamics suggests it will take several years to stabilize the debt-to-GDP ratio. Too little tightening and the numerator of the ratio (debt) will continue to grow strongly; too much and the denominator (growth) could slow further. We projected how the debt-to-GDP ratio might evolve given the current stock and flow of debt, augmented with assumptions about external conditions, investment efficiency, and other factors. Even under very favorable assumptions, we found it would take five more years of gradually decelerating credit growth to stabilize the debt-to-GDP ratio"
longandvariable.wordpress.com
"One reason cited [1] for why Syriza will be able to talk tough with the Troika, presuming it wins today, and can form a government, is that it has a healthy [circa 5%] primary budget surplus. That's the difference between revenues and spending, once we ignore the cost of servicing debt. The hypothesised threat is that the new Greek government renounces the debt and has no more need to borrow from capital markets, taking more in taxes than it spends.
Cut adrift from the Troika, the Greek government does not have the funds to stand behind its own banks. They would be left insolvent by a Greek default [economically, they are already, really]. A run on Greek banks, either prompted by default or the threat of it, could not be stemmed by a credible guarantee of deposits.
The primary surplus would fast disappear as the contraction in money, credit and economic activity played out.
tax collection is plummeting right now as Greeks forecast that unpopular property and other taxes will be ended, and perhaps also that there will be less appetite to collect on legacy obligations that the new political leaders discredited. Ironically, this drop in tax collection reduces Syriza's ability to deliver on the promised goodies which will win them the election."
"Rebels press Ukraine offensive, Obama promises steps against Russian-backed 'aggression' | Reuters
Japan exports grow most in year, signaling steady recovery from recession | Reuters
Greece's debt pile: is it really unsustainable? – FT.com"
http://blogs.wsj.com/economics/
"Who Owns the Government Bonds the ECB Will Buy?
Fedspeak Cheatsheet: What Are Fed Policy Makers Saying?
Chairwoman Janet Yellen (voter) No public comments
Vice Chairman Stanley Fischer (voter) No public comments
Gov. Daniel Tarullo (voter):No public comments
Gov. Jerome Powell (voter) No comments on monetary policy
Gov. Lael Brainard (voter): No public comments
Boston Fed President Eric Rosengren, Jan. 15 in a Wall Street Journal interview:"I'm willing to be patient" with rate increases, and "if we don't see any evidence [of rising inflation] in wage and price data for a year, then I'd wait a year before I'd be doing something."
New York Fed President William Dudley (voter) No public comments
Philadelphia Fed President Charles Plosser, Jan. 14 in Philadelphia:"The economy has returned to a more normal footing, and as such, I believe that monetary policy should follow suit."
Cleveland Fed President Loretta Mester, Jan. 2 in a Fox Business Network interview:"I could imagine the interest rates going up in the first half of the year."
Richmond Fed President Jeffrey Lacker (voter), Jan. 9 in Richmond:"There is no pre-set timetable for raising rates…The FOMC's actions genuinely will depend on the economic data available at the time."
Atlanta Fed President Dennis Lockhart (voter), Jan. 12 in Atlanta:"I believe the first action to raise interest rates will in all likelihood be justified by the middle of the year."
Chicago Fed President Charles Evans (voter):Jan. 9 in a CNBC interview:"We shouldn't be raising rates before 2016 if things transpire as I'm expecting."
St. Louis Fed President James Bullard, Jan. 20 in a Wall Street Journal interview:"It is important to get started and to start normalizing policy… I don't think we can any longer rationalize a zero interest rate policy."
Minneapolis Fed President Narayana Kocherlakota, Jan. 13 in New York City:"Raising the target range for the fed funds rate in 2015 would only further retard the pace of the slow recovery in inflation."
Kansas City Fed President Esther George: No public comments
Dallas Fed President Richard Fisher, Nov. 3 in New York: No public comments
San Francisco Fed President John Williams (voter), Jan. 5 in Boston:"I see no reason whatsoever to rush to tightening. I don't see any upside risks to inflation."
A SOLID FINISH FOR 2014 USA ECONOMIC GROWTH?
The Commerce Department will release the first numbers on fourth-quarter gross domestic product on Friday. Economists think real GDP grew at an annual rate of 3.3%. While that's far slower than the 5% surge in the third quarter, it is still a solid coda to a quirky year that began with a harsh winter causing economic activity to contract in the first quarter."
Bloomberg.
Tsipras Forges Anti-Austerity Coalition in EU Challenge
Prices in Europe Continue to Sink, Showing Why Draghi Had to Act
Poland Considers Franc-Loan Conversion to Make Banks Pay
Kuroda Remarks Open Possibilities for Shift in BOJ Stimulus
"Among options analysts highlight: regional-government bonds, a type of security that could aid public support."